Alphonse Mucha:
Glasbild "Topas"
Alphonse Mucha:
Glasbild "Topas"
Quick info
Reproduktion auf Floatglas | Format 51 x 21 cm (H/B) | Aufhängevorrichtung
Delivery time: Immediately deliverable
Detailed description
Glasbild "Topas"
We're sorry, but there is no English translation for this item yet. If you are interested in the size or the material of this product, please have a look at the German description as stated below.

Ikonen des Jugendstils: Als Glasbilder entfalten die Motive der 1900 entstandenen Edelstein-Serie eine besonders strahlende Ausdruckskraft. Original: Farblithografie, Mucha-Museum, Prag.

Hochwertige Reproduktion auf Floatglas. Lieferung inklusive Aufhängevorrichtung und Abstandshalter. Format 51 x 21 cm (H/B).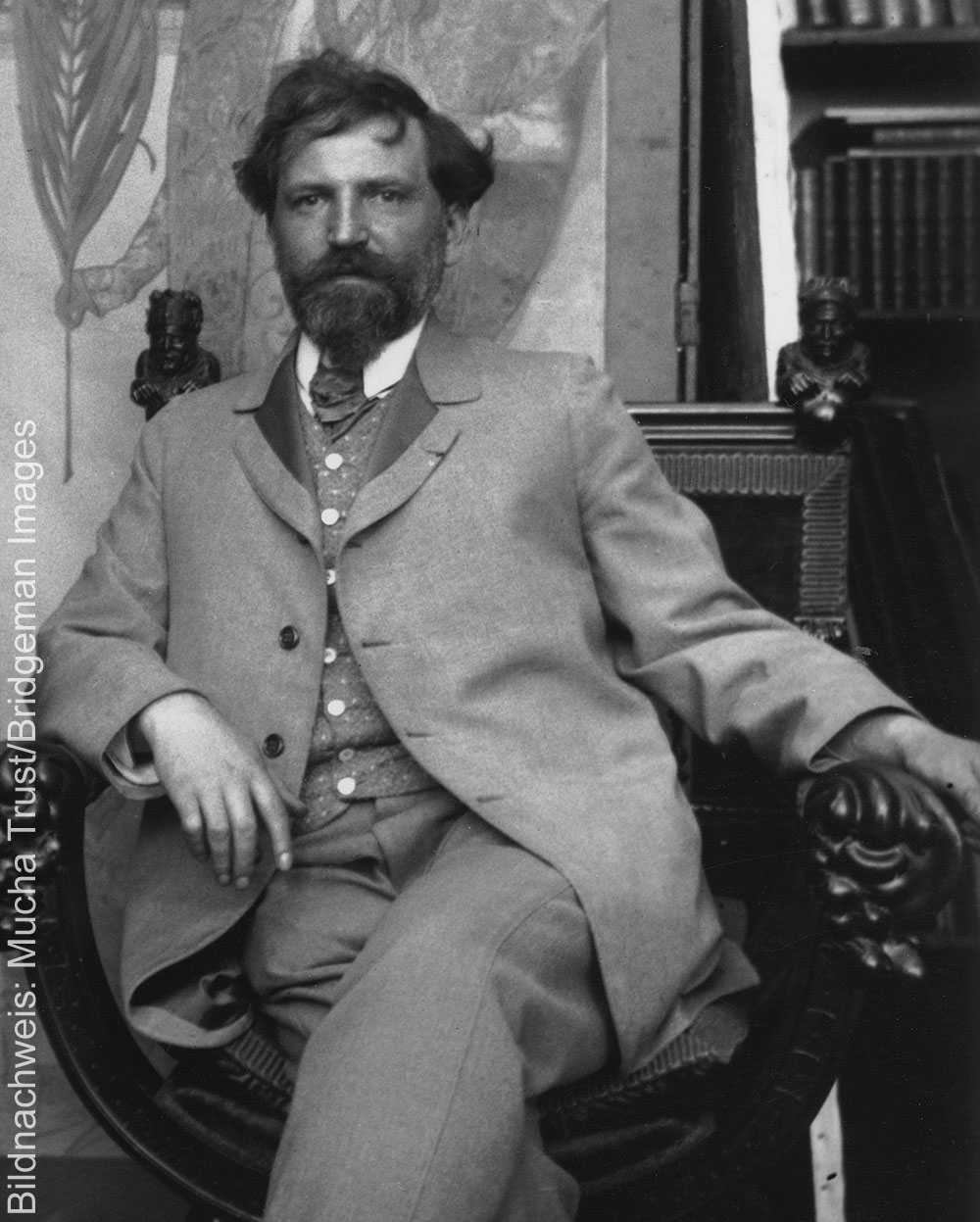 About Alphonse Mucha
1860-1939
Alphonse Mucha was one of the most important grandmasters of Art Nouveau.
After his first steps as an autodidact, he studied in Munich and Vienna, from where he finally moved to Paris. There he developed his typical style full of symbols, delicate colours and decorative elements, which he liked to entwine around fairy-like young women with long, flowing hair. Due to his versatility, Mucha was practically overwhelmed with commissions and was soon regarded as one of the main representatives of Art Nouveau.
Alphonse Mucha achieved fame with the posters for the stage roles of Sarah Bernhardt. His speciality was calendar illustrations, but he also showed his art in stained glass windows, furniture, costumes...
Art Nouveau, or the German term Jugendstil (lit.: "Youth Style"), is the art epoch between 1890-1910. The name originates from the Munich-based magazine "Jugend" (Youth), founded in 1896. It was the German counterpart of Art Nouveau (France), but also internationally known as Modern Style (England) or Secession (Austria).
Art Nouveau conquered all of Europe and innumerable works were created, ranging from painting and applied arts to architecture. One of the requirements of Art Nouveau was the artistic design of everyday objects, i.e. beauty and practicality were combined. The desired unity of the artistic ability could only be achieved through individually influenced design, which made the Jugenstil the precursor of modernism. The essential characteristic of Art Nouveau is linear, often asymmetrical ornamentation. The models are particularly taken from nature and flora.
Major Art Nouveau centres were formed in Munich, Darmstadt, Brussels, Paris and Nancy (Glass Art by Emile Gallé). The Viennese architecture of that time was determined by Otto Wagner and J. Hoffmann. Gustav Klimt created paintings that gave sensual shape to the spirit of Art Nouveau.