Caspar David Friedrich:
Picture "Flat Countryside" (c. 1822/23), framed
Caspar David Friedrich:
Picture "Flat Countryside" (c. 1822/23), framed
Quick info
ars mundi Exclusive Edition | limited, 980 copies | numbered certificate | reproduction, Giclée print on canvas | on stretcher frame | framed | size approx. 32 x 45 cm (h/w)
Delivery time: approx. 2 weeks
Detailed description
Picture "Flat Countryside" (c. 1822/23), framed
An area on the island of Rügen or near Greifswald. A counterpart to "Landscape with Windmills". Original: Oil on canvas, 27.4 x 41.1 cm, Berlin, Neues Pavillon Schlossgarten Charlottenburg.

High-quality Fine Art Giclée museum edition directly on artist's cotton canvas and stretched on a stretcher frame. Limited edition of 980 copies. Numbered on the back with certificate. Framed in a solid wood frame in antique gold with imitation leaf. Size approx. 32 x 45 cm (h/w). ars mundi Exclusive Edition.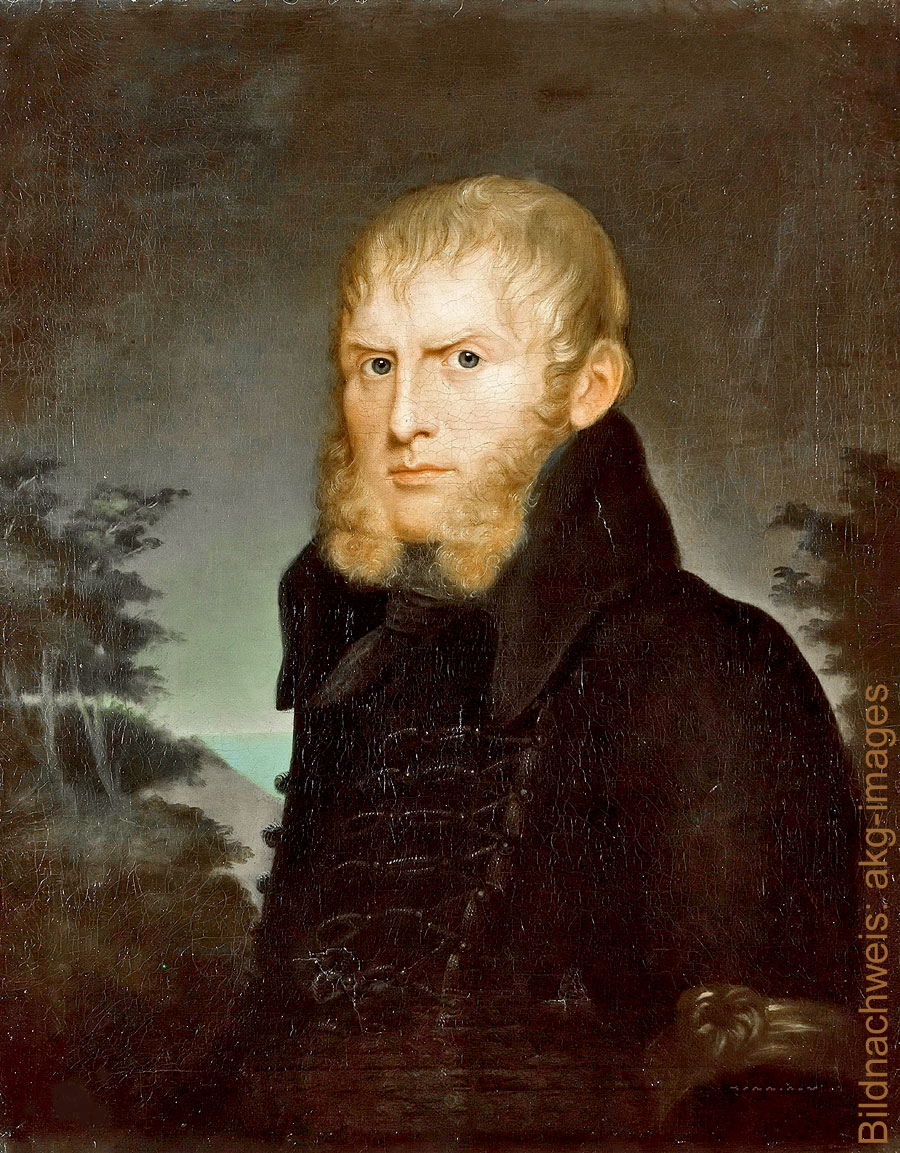 About Caspar David Friedrich
1774-1840
Caspar David Friedrich was the most important German painter of the Romantic period. Even his person embodied the typical Romantic: he was rather introverted, close to nature and religious, he saw nature as a mirror of human feelings. In his meticulously painted canvases, Friedrich achieved incomparable metaphysical transparency.
"The painter should paint not only what he has in front of him, but also what he sees inside himself." With this recommendation to his fellow painters, Caspar David Friedrich explained the driving force and meaning of his paintings.
Landscape depiction holds a leading position in his oeuvre. Friedrich went on long hikes through the mountains and along the coast with friends. He captured human beings in their smallness in relation to the immense power of nature. The lonely figures look longingly into vast landscapes with distant horizons. They often turn their backs to the viewer so that he can put himself in their place. Using symbolic nature metaphors such as the moon as the universe and tree stumps as an indication of transience, he created contemplative romantic feelings and religious sentiments. Friedrich wanted his nature moods to provide insight into the human soul.
At the age of 24, after an academic education in Copenhagen, the young artist was drawn to Dresden. In the city along the Elbe, Friedrich and other painters, as well as poets such as Tieck and Schlegel, formed the centre of early Romanticism. The characteristic feature of Romanticism is the reciprocal effect of poetry and painting. Friedrich's landscapes are mirrors of feelings and seek to express visually what poetry achieves with words. "The depths of our spirit are unknown to us - the mysterious way leads inwards. Eternity with its worlds - the past and future - is in ourselves or nowhere." This is how the poet Novalis expressed himself on behalf of the early Romantics.
Graphic or sculpture edition that was initiated by ars mundi and is available only at ars mundi or at distribution partners licensed by ars mundi.
Giclée = derived from the French verb gicler "to squirt, spurt".
The giclée method is a digital printing process. It is a high-resolution, large-format printout on an inkjet printer with special different-coloured dye- or pigment-based inks (usually six to twelve). The colours are fade-proof, i.e. resistant to harmful UV light. They have a high richness of nuance, contrast and saturation.
The giclée process is suitable for art canvases, handmade and watercolour paper as well as for silk.
An attitude that spread from literature and philosophy into the visual arts, established in about 1800 but failed to produce its own style in visual arts.
The art of Romanticism was determined by the content of the awareness of life and the sensations triggered by it. Inwardness and feelings, dream and fantasy, world and nature, the power of mythical and the striving towards infinity became central themes. The actual realm of Romanticism lies in painting and drawing. Landscape, in particular, came to the fore as a recurring theme: man and nature were set in relation to each other and moods were reflected. Alongside the new feeling for nature, there was a renewal of religious attitudes and a return to the past, tradition, history, old legends, fairy tales, as well as to the art of old masters and epochs. Especially in the case of Germany, this was strongly national-oriented art.
Main representatives in Germany include C.D. Friedrich, P.O. Runge, J.A. Koch, M. v. Schwind, and also the Nazarene group of artists. French Romanticism, which was characterised by other trends than the German, is represented mainly by the art of Delacroix.
Romanticism lasted until around 1830.