Caspar David Friedrich:
Porcelain picture "The Evening", framed
Caspar David Friedrich:
Porcelain picture "The Evening", framed
Quick info
ars mundi Exclusive Edition | limited, 999 copies | numbered | porcelain | solid wood frame | size 38 x 33.5 cm
Delivery time: Immediately deliverable
Detailed description
Porcelain picture "The Evening", framed
From 1820 onwards, Caspar David Friedrich saw his ideas fully realised through the Nordic landscape. It also inspired him to create his "Time of Day Cycle", which represents a cycle of life in which the viewer can discern childhood, youth, maturity and the serenity of old age.

"The Evening" shows two hikers contemplating the spectrum of the setting sun. The horizon still shines through the pine trunks, but in a few minutes, the magic will be over and, the cold night will beckon them to turn back.

This treasure, created in 1821/22, exhibited in the Landesgalerie Hannover, has been transferred exclusively for ars mundi in a limited world edition by the experts of the Königlich privilegierte Porzellanmanufaktur Tettau in 10 colours onto the finest porcelain. During three firing processes, with temperatures up to 1360°C, they created porcelain images of incomparable colour brilliance. Each of the 999 copies is individually numbered by hand and framed in a sophisticated gold-plated solid wood frame. Framed size 38 x 33.5 cm.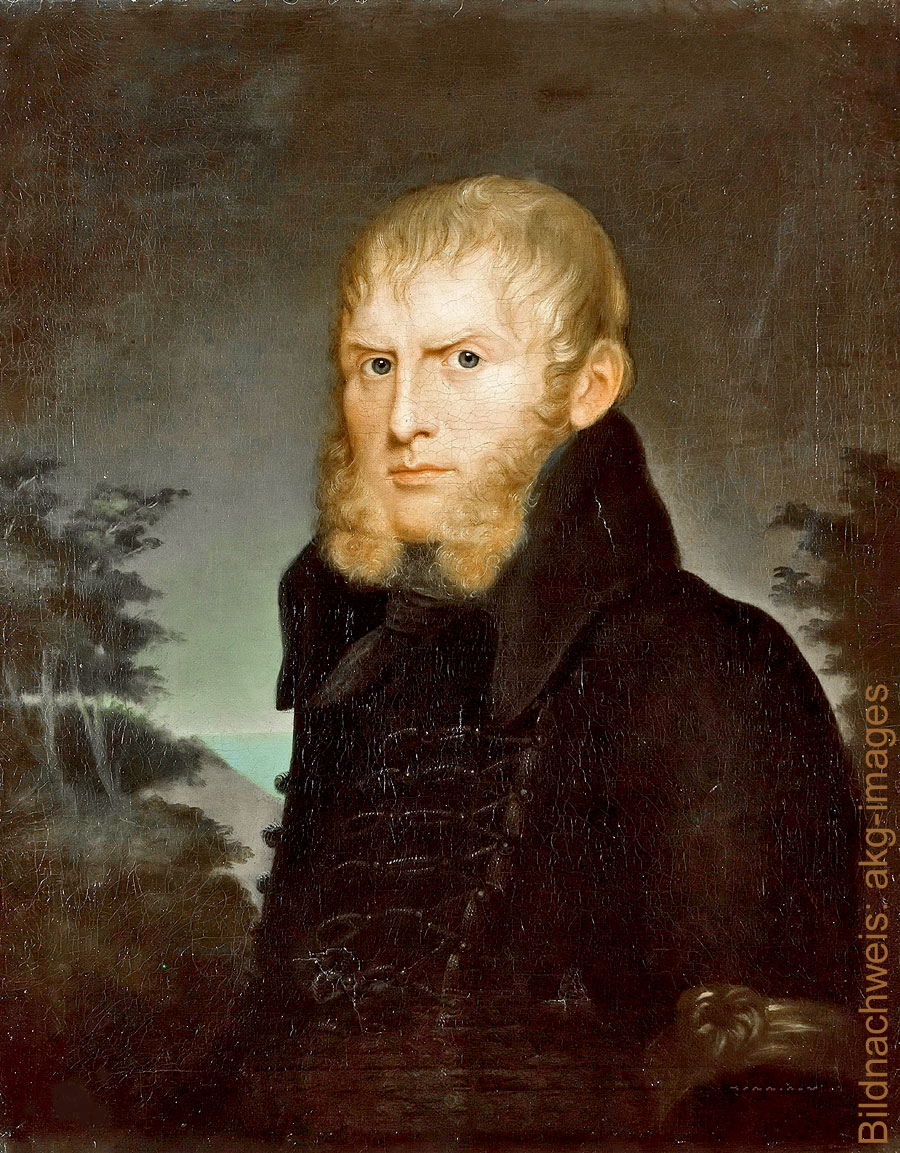 About Caspar David Friedrich
1774-1840
Caspar David Friedrich was the most important German painter of the Romantic period. Even his person embodied the typical Romantic: he was rather introverted, close to nature and religious, he saw nature as a mirror of human feelings. In his meticulously painted canvases, Friedrich achieved incomparable metaphysical transparency.
"The painter should paint not only what he has in front of him, but also what he sees inside himself." With this recommendation to his fellow painters, Caspar David Friedrich explained the driving force and meaning of his paintings.
Landscape depiction holds a leading position in his oeuvre. Friedrich went on long hikes through the mountains and along the coast with friends. He captured human beings in their smallness in relation to the immense power of nature. The lonely figures look longingly into vast landscapes with distant horizons. They often turn their backs to the viewer so that he can put himself in their place. Using symbolic nature metaphors such as the moon as the universe and tree stumps as an indication of transience, he created contemplative romantic feelings and religious sentiments. Friedrich wanted his nature moods to provide insight into the human soul.
At the age of 24, after an academic education in Copenhagen, the young artist was drawn to Dresden. In the city along the Elbe, Friedrich and other painters, as well as poets such as Tieck and Schlegel, formed the centre of early Romanticism. The characteristic feature of Romanticism is the reciprocal effect of poetry and painting. Friedrich's landscapes are mirrors of feelings and seek to express visually what poetry achieves with words. "The depths of our spirit are unknown to us - the mysterious way leads inwards. Eternity with its worlds - the past and future - is in ourselves or nowhere." This is how the poet Novalis expressed himself on behalf of the early Romantics.
Graphic or sculpture edition that was initiated by ars mundi and is available only at ars mundi or at distribution partners licensed by ars mundi.
Ceramic product made of kaolin, quartz and feldspar.
Porcelain is formed by turning or pressing and figurative objects are cast. Complex objects have to be cast in separated steps and sections and then "assembled". After the moulding, the pieces are dried and "annealed" at about 900 °C. Next, the glaze will be applied and fired at temperatures between 1,240 °C and 1,445 °C. In renowned manufactures, the porcelain is painted by hand whereby each colour has to be fired individually and in compliance with narrow temperature tolerances.
Porcelain was invented in China and became widespread in Europe from the 16th century onwards. The first European porcelain factory was founded in Meissen, Germany in 1710.
Other famous European porcelain factories include Fürstenberg, Höchst, Schwarzburger Werkstätten, Lladró, Nymphenburg, KPM, Augarten, Sèvres, Limoges, Royal Copenhagen, Worcester. Individual factories label their products with their personal porcelain stamps so that for the collecter it is easy to identify their origin.
An attitude that spread from literature and philosophy into the visual arts, established in about 1800 but failed to produce its own style in visual arts.
The art of Romanticism was determined by the content of the awareness of life and the sensations triggered by it. Inwardness and feelings, dream and fantasy, world and nature, the power of mythical and the striving towards infinity became central themes. The actual realm of Romanticism lies in painting and drawing. Landscape, in particular, came to the fore as a recurring theme: man and nature were set in relation to each other and moods were reflected. Alongside the new feeling for nature, there was a renewal of religious attitudes and a return to the past, tradition, history, old legends, fairy tales, as well as to the art of old masters and epochs. Especially in the case of Germany, this was strongly national-oriented art.
Main representatives in Germany include C.D. Friedrich, P.O. Runge, J.A. Koch, M. v. Schwind, and also the Nazarene group of artists. French Romanticism, which was characterised by other trends than the German, is represented mainly by the art of Delacroix.
Romanticism lasted until around 1830.