Günter Grass:
Skulptur "Butt im Griff II", Bronze
Günter Grass:
Skulptur "Butt im Griff II", Bronze
Quick info
Limitiert, 90 Exemplare | nummeriert | signiert | Bronze | patiniert | poliert | Format 39 x 23 x 10 cm (H/B/T) | Gewicht 4,6 kg
Delivery time: approx. 2 weeks
Detailed description
Skulptur "Butt im Griff II", Bronze
We're sorry, but there is no English translation for this item yet. If you are interested in the size or the material of this product, please have a look at the German description as stated below.

"Der Butt" gehört zu Günter Grass' bekanntesten Romanen. Den Butt entnimmt Grass dem Märchen vom "Fischer un syner Fru"; der sprechende Fisch ist Geschichtenerzähler und Geschichtsbewahrer, erteilt Rat, regt zu Diskussionen an und ist selbst streitbar. Eine symbolträchtige Skulptur voll Ausdruckskraft.

Skulptur in feiner Bronze, von Hand gegossen im Wachsausschmelzverfahren, poliert und teilweise grünlich patiniert. Limitierte Auflage 90 Exemplare, nummeriert und signiert. Format 39 x 23 x 10 cm (H/B/T). Gewicht 4,6 kg.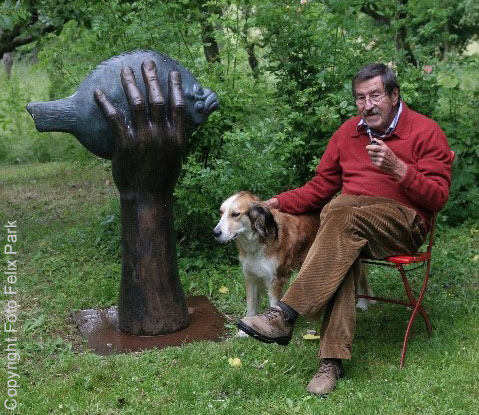 About Günter Grass
1927-2015
Born in Gdansk in 1927, Günter Grass is regarded as an important representative of German literature. He also made a name for himself as a sculptor, painter and graphic artist. With a hint of irony, he said of himself: "As a visual artist I am a skilled artist, as a writer an unskilled artist."
After completing an apprenticeship as a stonemason, Grass studied sculpture at the Academy in Düsseldorf in 1948/49 and the Hochschule für Bildende Künste in Berlin in 1953. Grass became known as a writer in 1959 by publishing the first part of his best-known work called "Danzig Trilogy", "The Tin Drum". Since the early 1960s, Grass developed an increasingly strong political engagement, which is reflected in his books. In the 1980s, he produced numerous graphic works, which were published in the two-volume work "Zeichnen und Schreiben" (Drawing and Writing). Here, in particular, self-quotations stand out and underline his criticism of the times.
The painter painted just the way he was: lyrically poetic, idiosyncratically fair. All three fundamental types of poetry are combined into one in Grass's paintings: drama, epic poetry and lyric poetry.
Günter Grass received dozens of international awards, including the prestigious Nobel Prize for Literature. His diverse oeuvre has been presented at numerous exhibitions in Germany as well as abroad.
"I hold the draughtsman, the graphic artist, the sculptor Günter Grass in extraordinarily high esteem. What he has produced for half a century delights me greatly and almost always." (Marcel Reich-Ranicki)
"Grass's secret lies in the precarious and unique balance, he has managed to strike between his anarchic imagination and his superior appreciation of art." (Hans Magnus Enzensberger)
An alloy of copper with other metals (especially with tin) used since ancient times.
When casting bronze, the artist usually applies the lost-wax technique which is dating back more than 5000 years. It's the best, but also the most complex method of producing sculptures.
First, the artist forms a model of his sculpture. It is embedded in a liquid silicone rubber mass. Once the material has solidified, the model is cut out. The liquid wax is poured into the negative mould. After cooling down, the wax cast is removed from the mould, provided with sprues and dipped into ceramic mass. The ceramic mass is hardened in a kiln, whereby the wax flows out (lost mould).
Now we finally have the negative form, into which the 1400° C hot molten bronze is poured. After the bronze had cooled down, the ceramic shell is broken off and the sculpture is revealed.
Now the sprues are removed, the surfaces are polished, patinated and numbered by the artist himself or, to his specifications, by a specialist. Thus, each casting becomes an original work.
For lower-quality bronze castings, the sand casting method is often used which, however, does not achieve the results of a more complex lost-wax technique in terms of surface characteristics and quality.
Term for an art object (sculpture, installation), which is produced in multiple copies in a limited and numbered edition according to the artist's will.
Artist's multiples have been called the most accessible and affordable art on the market.
A plastic work of sculptural art made of wood, stone, ivory, bronze or other metals.
While sculptures from wood, ivory or stone are made directly from the block of material, in bronze casting a working model is prepared at first. Usually, it is made of clay or other easily mouldable materials.
The prime time of sculpture after the Greek and Roman antiquity was the Renaissance. Impressionism gave a new impulse to the sculptural arts. Contemporary artists such as Jorg Immendorf, Andora, and Markus Lupertz also enriched sculptures with outstanding works.