Jean-Claude Cubaynes:
Set of 2 pictures "Chemin Fleurie in Provence" + "Pond with pasture"
Jean-Claude Cubaynes:
Set of 2 pictures "Chemin Fleurie in Provence" + "Pond with pasture"
Quick info
ars mundi Exclusive Edition | limited, 199 copies each | signed | reproduction, Giclée print on canvas | on stretcher frame | framed | size 53 x 53 cm each
Delivery time: approx. 2 weeks
Detailed description
Set of 2 pictures "Chemin Fleurie in Provence" + "Pond with pasture"
"Chemin Fleurie en Provence" (Flowery Path in Provence): Typically colourful flowers of Provence line a path that is almost submerged in them. Only local people and plant lovers know it.

"L'étang avec pâturage" (Pond with Willows): If Claude Monet had painted his water lilies today, they would look like the water impressions by Jean-Claude Cubaynes. Brilliant due to the tendency towards hyperrealism and thus highly contemporary.

Two high-quality reproductions were transferred directly onto 100% cotton artist canvas using the Fine Art Giclée process and mounted on a wooden stretcher frame. Elegant hand-glided solid wood frame. Limited and signed edition of 199 copies each. Exclusively at ars mundi. Framed size 53 x 53 cm each.

Set of two pictures.
This set contains the following products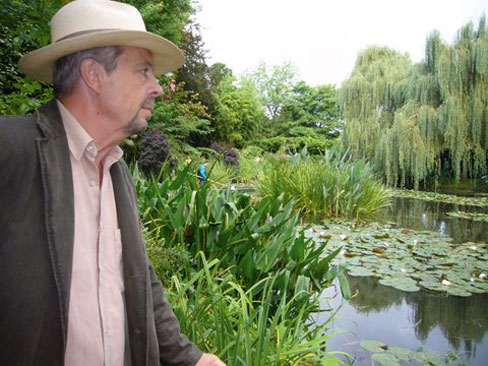 About Jean-Claude Cubaynes
Born in 1944, French painter
Jean-Claude Cubaynes' art is unmistakably inspired by the great works of Impressionists, especially Monet, to whom he pays personal homage in his painting "The Garden of Giverny". He shares with them the accuracy of the play of colour and light in natural scenes, an extremely precise style of painting, fuelled by a great knowledge of optical effects – and last but certainly not least – the great admiration for the depiction of gardens and landscapes.
Cubaynes, born in 1944, studied at the Ecole des Arts Appliqués de Paris at the age of 15. He has worked as a freelance artist since 1966. Starting in 1970, his works have been presented in countless national and international solo exhibitions.
It is not surprising that Cubaynes has fans worldwide: with the greatest subtlety and clarity, he knows how to capture the enchanted magic of a sprawling garden or the atmosphere of a meadow in bloom; indeed, he conveys in his works the paradisiacal quality that is inherent in these places and that is precisely what the Impressionists were interested in. Cubayne's pictures have an immediate effect: the viewers believe they have been transported into his landscapes with all their senses.
Graphic or sculpture edition that was initiated by ars mundi and is available only at ars mundi or at distribution partners licensed by ars mundi.
Giclée = derived from the French verb gicler "to squirt, spurt".
The giclée method is a digital printing process. It is a high-resolution, large-format printout on an inkjet printer with special different-coloured dye- or pigment-based inks (usually six to twelve). The colours are fade-proof, i.e. resistant to harmful UV light. They have a high richness of nuance, contrast and saturation.
The giclée process is suitable for art canvases, handmade and watercolour paper as well as for silk.