Jean-Claude Cubaynes:
Set of 4 mugs "Giverny", porcelain
Jean-Claude Cubaynes:
Set of 4 mugs "Giverny", porcelain
Quick info
ars mundi Exclusive Edition | signed | porcelain | capacity 0.36 l each | dishwasher safe | only available as a set
Delivery time: Immediately deliverable
Detailed description
Set of 4 mugs "Giverny", porcelain
ars mundi has collaborated with the privilegierte Weimarer Porzellanmanufaktur to produce high-quality coffee mugs of Cubayne's landscapes "Printemps à Giverny", "Giverny en Mai", "Giverny le Soir" and "Giverny Juin". Made of bone china porcelain. Capacity 0.36 l each, dishwasher safe. Signed ars mundi Exclusive Edition. Set of 4 coffee mugs.
Customer reviews
Ich bin sehr zufrieden mit meiner Lieferung!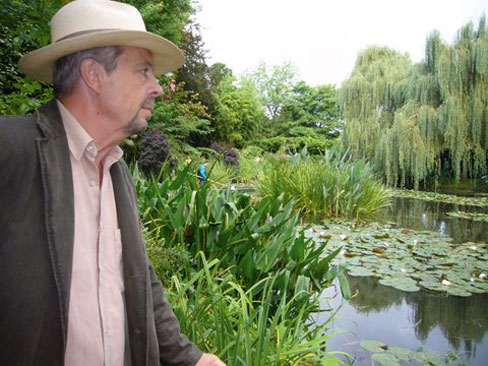 About Jean-Claude Cubaynes
Born in 1944, French painter
Jean-Claude Cubaynes' art is unmistakably inspired by the great works of Impressionists, especially Monet, to whom he pays personal homage in his painting "The Garden of Giverny". He shares with them the accuracy of the play of colour and light in natural scenes, an extremely precise style of painting, fuelled by a great knowledge of optical effects – and last but certainly not least – the great admiration for the depiction of gardens and landscapes.
Cubaynes, born in 1944, studied at the Ecole des Arts Appliqués de Paris at the age of 15. He has worked as a freelance artist since 1966. Starting in 1970, his works have been presented in countless national and international solo exhibitions.
It is not surprising that Cubaynes has fans worldwide: with the greatest subtlety and clarity, he knows how to capture the enchanted magic of a sprawling garden or the atmosphere of a meadow in bloom; indeed, he conveys in his works the paradisiacal quality that is inherent in these places and that is precisely what the Impressionists were interested in. Cubayne's pictures have an immediate effect: the viewers believe they have been transported into his landscapes with all their senses.
Graphic or sculpture edition that was initiated by ars mundi and is available only at ars mundi or at distribution partners licensed by ars mundi.
Ceramic product made of kaolin, quartz and feldspar.
Porcelain is formed by turning or pressing and figurative objects are cast. Complex objects have to be cast in separated steps and sections and then "assembled". After the moulding, the pieces are dried and "annealed" at about 900 °C. Next, the glaze will be applied and fired at temperatures between 1,240 °C and 1,445 °C. In renowned manufactures, the porcelain is painted by hand whereby each colour has to be fired individually and in compliance with narrow temperature tolerances.
Porcelain was invented in China and became widespread in Europe from the 16th century onwards. The first European porcelain factory was founded in Meissen, Germany in 1710.
Other famous European porcelain factories include Fürstenberg, Höchst, Schwarzburger Werkstätten, Lladró, Nymphenburg, KPM, Augarten, Sèvres, Limoges, Royal Copenhagen, Worcester. Individual factories label their products with their personal porcelain stamps so that for the collecter it is easy to identify their origin.