Roman Johann Strobl:
Picture "To the Cabin" (2021) (Original / Unique piece), on stretcher frame
Roman Johann Strobl:
Picture "To the Cabin" (2021) (Original / Unique piece), on stretcher frame
Quick info
original painting | signed | mixed media on canvas | on stretcher frame | size 100 x 80 cm (h/w)
Delivery time: approx. 2 weeks
Detailed description
Picture "To the Cabin" (2021) (Original / Unique piece), on stretcher frame
Original painting 2021, signed. Mixed media on canvas, stretched on stretcher frame. Size 100 x 80 cm (h/w).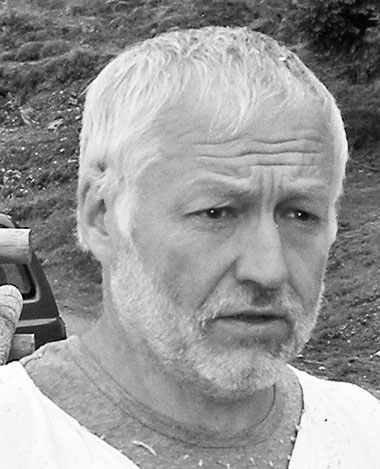 About Roman Johann Strobl
Born in 1951, Austrian sculptor
The sculptor and painter Roman Johann Strobl, who lives in Going am Wilden Kaiser, has made a name for himself among art collectors and gallery owners above all with his wooden sculptures, which are filigree, expressive and cheerfully dynamic. He has attracted public attention for his redesign of the German film award "Lola" and portraits of the former Chancellor of Germany Gerhard Schröder, among others.
The Austrian was born in 1951 and grew up in a traditional woodcarving family. Already at the age of 14, he learned the woodcarving trade in his father's workshop. To deepen his skills, Strobl studied sculpture under Professor Sebastian Cosamale in Todi, Italy. This was followed by numerous journeys to the Middle East, India and the roots of Greek mythology on Crete, which provided the artist with lasting inspiration for themes for his sculptural work.
Strobl experimented with a wide variety of techniques and materials for a long time. However, stone sculpture slowly became the focus of his artistic work. In 1997, he finally turned back to wood as a means of expression. But no longer with the carving knife but with the electric chainsaw with which he creates his objects with incredible precision like no other.
Strobl's oeuvre includes sculptures in wood, marble and stone. Moreover, he created a series of expressive picture cycles on canvas and drawings. Since the mid-1980s, his works have been regularly represented at exhibitions in Germany and Austria. His sculptural work is presented in public spaces ("Kunst am Bau") on buildings in Munich, Hanover and in Austria. Strobl has also appeared in chainsaw performances, including in the Austrian pavilion at EXPO 2000 in Hanover and Ahrensburg (2001), where he portrayed the Italian sculptor Bruno Bruni.
Depiction of typical scenes from daily life in painting, whereby a distinction can be made between peasant, bourgeois and courtly genres.
The genre reached its peak and immense popularity in Dutch paintings of the 17th century. In the 18th century, especially in France, the courtly-galant painting became prominent while in Germany the bourgeois character was emphasised.
Graphic artwork in the making of which the artist combines at least two graphic techniques.
A one-of-a-kind or unique piece is a work of art that has been personally created by the artist. It exists only once due to the type of production (oil painting, watercolours, drawing, etc.).
In addition to the classic unique pieces, there exist the so-called "serial unique pieces". They present a series of works with the same colour, motif and technique, manually prepared by the same artist. The serial unique pieces are rooted in "serial art", a type of modern art, that aims to create an aesthetic effect through series, repetitions and variations of the same objects or themes or a system of constant and variable elements or principles.
In the history of arts, the starting point of this trend was the work "Les Meules" (1890/1891) by Claude Monet, in which for the first time a series was created that went beyond a mere group of works. The other artists, who addressed to the serial art, include Claude Monet, Piet Mondrian and above all Gerhard Richter.