Friedensreich Hundertwasser:
Stockschirm "Dunkelbunt"
Friedensreich Hundertwasser:
Stockschirm "Dunkelbunt"
Quick info
Holzgriff + Baumwoll-Kunststoffgemisch | Hundertwasser-Schriftzug | Länge 89 cm | Ø 90 cm
Delivery time: Immediately deliverable
Detailed description
Stockschirm "Dunkelbunt"
We're sorry, but there is no English translation for this item yet. If you are interested in the size or the material of this product, please have a look at the German description as stated below.

Stockschirm mit Holzgriff und Bezug aus robustem Baumwoll-Kunststoffgemisch. Aufdruck Kunsthaus Wien. Hundertwasser sagte: "Wenn es regnet bin ich glücklich". "An einem Regentag beginnen die Farben zu leuchten, deswegen ist ein trüber Tag - ein Regentag - für mich der schönste Tag." Am Griff Metallplakette mit Hundertwasser-Schriftzug. Länge 89 cm, Durchmesser 90 cm.

Die abgebildeten Werke sind urheberrechtlich geschützt. Es ist insbesondere nicht gestattet, diese Abbildungen zu kopieren, zu bearbeiten, auszudrucken oder zu veröffentlichen. Zuwiderhandlungen werden straf- und zivilrechtlich verfolgt.

The displayed works of art are protected by copyright. In particular, it is not permitted to copy, edit, print or publish these illustrations. Violations will be prosecuted according to civil and criminal law.
Customer reviews
Sehr schöner Artikel! Schnelle und unkomplizierte Kaufabwicklung. Immer gerne wieder!
Die Lieferung erfolgte umgehend nach unserer Bestellung.
sehr schönes design, fällt auf der straße auf jeden fall auf.sehr schnelle lieferung, alles zu unserer zufriedenheit.
Schnell geliefert und wie immer gute Qualität.
Mit diesem Regenschirm macht jeder Gang durch den Regen gute Laune.
Diesen Schirm kann man nicht einfach vergessen und irgendwo stehen lassen!
Ein wunderschöner Schirm, gutes, festes Grundmaterial. Die Farben leuchten und bringen Flair in einen Regentag. Man kann so einen Schirm leider nicht im Kaufhaus im Sammelständer abgeben, das ist aber auch der einzige Nachteil (vom deftigen Preis abgesehen).
Das Design ist wie erwartet Top...die Qualität ist gerade noch dem Preis angemessen...
Bin sehr zufrieden. Dies ist ja bereits meine 2. Bestellung bei Ihnen. Qualität, Farbton und Stabilität sind völlig in Ordnung. Hab ihn mir ja auch selbst ausgesucht. Bin auch mit der schnellen Lieferung und dass man mit Rechnung bezahlen darf sehr zufrieden. Liebe Grüße
Show all ratings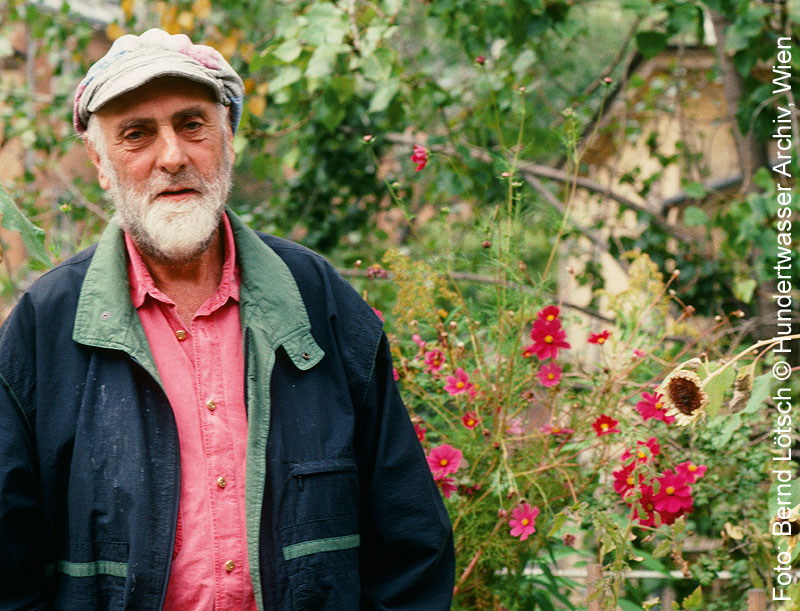 About Friedensreich Hundertwasser
1928-2000
Hundertwasser is one of the most internationally renowned artists of our time. His worldwide reputation was already established in the 1960s. Followed by an eventful and evocative career. His aura and power emerged from his painting and multifaceted work.
Organizing demonstrations, speeches, happenings and campaigns, addressing ecological issues, advocating a life in harmony with nature, manifestos for nature, standing up for a more humane architecture and the improvement of people's lives.
Hundertwasser originated projects such as the tree tenants, the roof afforestation, the regreening of cities, the humus toilet, the restoration of social values and the natural cycles. He was an admonisher against environmental pollution, against the dangers of nuclear energy, against natural degradation and the destruction of natural heritage, and in favour of a waste-free society.
Hundertwasser has been engaged with architecture since the 1950s. On the occasion of the inauguration of the Hundertwasser House of the City of Vienna (1986), he said: "We are again experiencing a turning point where old and rigid values in architecture and urban developement are increasingly being questioned. The straightness and uniformity of Bauhaus architecture is coming to an end because it is callous, sterile, cold, heartless, aggressive and emotionless. The era of absolute rationalism is coming to an end. The new values are enhanced quality of life, not standard of living. Longing for romance, individuality, creativity, especially creativity and living in harmony with nature."
With Friedensreich Hundertwasser, our epoch has found the most imposing challenger of totalitarian thinking, whether it concerns nuclear energy, genetic manipulation, environmental protection or the design of our living space. Hundertwasser lived completely in harmony with his view of things and opposing the contradictions of post-industrial society. Hundertwasser's significance is his art that produces beauty: a message of natural harmony, peace and joy.