Günter Grass:
Picture "Forest Landscape on Moen" (2001), unframed
Günter Grass:
Picture "Forest Landscape on Moen" (2001), unframed
Quick info
limited, 150 copies | numbered | signed | algraphy | unframed | size 53 x 70 cm (h/w)
Delivery time: approx. 2 weeks
Detailed description
Picture "Forest Landscape on Moen" (2001), unframed
Original algraphy 2001. 150 copies limited edition, numbered and signed. Unframed. Motif size 38 x 57 cm (h/w). Sheet size 53 x 70 cm (h/w).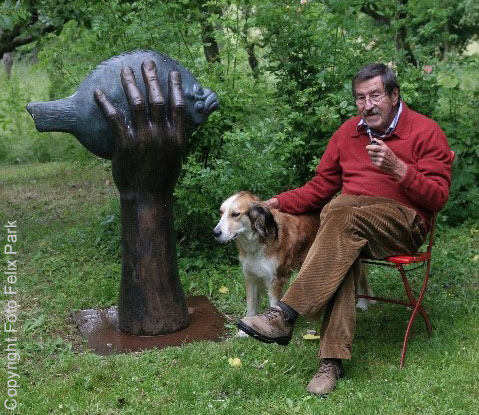 About Günter Grass
1927-2015
Born in Gdansk in 1927, Günter Grass is regarded as an important representative of German literature. He also made a name for himself as a sculptor, painter and graphic artist. With a hint of irony, he said of himself: "As a visual artist I am a skilled artist, as a writer an unskilled artist."
After completing an apprenticeship as a stonemason, Grass studied sculpture at the Academy in Düsseldorf in 1948/49 and the Hochschule für Bildende Künste in Berlin in 1953. Grass became known as a writer in 1959 by publishing the first part of his best-known work called "Danzig Trilogy", "The Tin Drum". Since the early 1960s, Grass developed an increasingly strong political engagement, which is reflected in his books. In the 1980s, he produced numerous graphic works, which were published in the two-volume work "Zeichnen und Schreiben" (Drawing and Writing). Here, in particular, self-quotations stand out and underline his criticism of the times.
The painter painted just the way he was: lyrically poetic, idiosyncratically fair. All three fundamental types of poetry are combined into one in Grass's paintings: drama, epic poetry and lyric poetry.
Günter Grass received dozens of international awards, including the prestigious Nobel Prize for Literature. His diverse oeuvre has been presented at numerous exhibitions in Germany as well as abroad.
"I hold the draughtsman, the graphic artist, the sculptor Günter Grass in extraordinarily high esteem. What he has produced for half a century delights me greatly and almost always." (Marcel Reich-Ranicki)
"Grass's secret lies in the precarious and unique balance, he has managed to strike between his anarchic imagination and his superior appreciation of art." (Hans Magnus Enzensberger)
The field of graphic arts, that includes artistic representations, which are reproduced by various printing techniques.
Printmaking techniques include woodcuts, copperplate engraving, etching, lithography, serigraphy.