Marina Krasnitskaya:
Picture "Fortune-Teller", on stretcher frame
Marina Krasnitskaya:
Picture "Fortune-Teller", on stretcher frame
Quick info
limited, 199 copies | numbered | signed | reproduction, Giclée print on canvas | on stretcher frame | size 80 x 80 cm
Delivery time: approx. 2 weeks
Detailed description
Picture "Fortune-Teller", on stretcher frame
What might the future bring? The cards will reveal it, and both the fortune-teller and the one asking the questions gaze eagerly at the cards that have been laid out. However, the cat, the "most beautiful friend and faithful companion" (according to the artist), already knows all the secrets.

Reproduced using the Fine Art Giclée process directly onto 100% cotton artist's canvas and mounted on a stretcher frame. Limited edition of 199 copies, numbered and signed by hand on the back. Size 80 x 80 cm.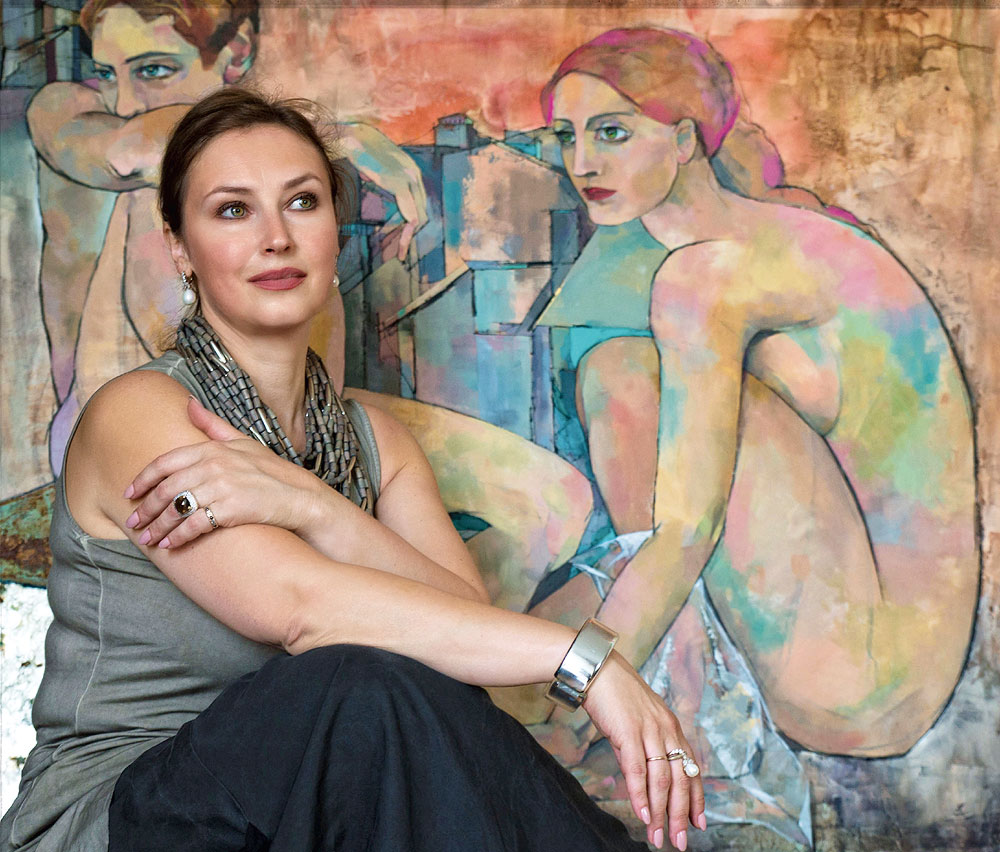 About Marina Krasnitskaya
"Painting is not a hobby, a profession or a passion. It is my doppelganger, my conscience, my second self," says painter Marina Krasnitskaya about the daily confrontation with her ideas and artistic visions.
"Picasso said that the work you paint is a way of journaling. That's exactly how I feel: each of my works is like capturing moments full of emotions and feelings. Each painting is deeply personal, each piece is 'me' – in very different forms and colours."
The Russian-born artist has lived and worked in Germany since 1994. In addition to her work as a graphic designer and web designer, she maintains and develops the clear, Russian visual language and folk culture in her paintings. Because of their colourfulness, the motifs, which range from cubist to fantastic, are reminiscent of other famous Russian artists such as Malevich or Chagall. Krasnitskaya's paintings are surrounded by a dreamlike aura and set a contemporary monument to Russian fairytale culture and symbolism.
Depiction of typical scenes from daily life in painting, whereby a distinction can be made between peasant, bourgeois and courtly genres.
The genre reached its peak and immense popularity in Dutch paintings of the 17th century. In the 18th century, especially in France, the courtly-galant painting became prominent while in Germany the bourgeois character was emphasised.
Giclée = derived from the French verb gicler "to squirt, spurt".
The giclée method is a digital printing process. It is a high-resolution, large-format printout on an inkjet printer with special different-coloured dye- or pigment-based inks (usually six to twelve). The colours are fade-proof, i.e. resistant to harmful UV light. They have a high richness of nuance, contrast and saturation.
The giclée process is suitable for art canvases, handmade and watercolour paper as well as for silk.