Christine Kremkau:
Picture "Sunflowers" (2020), framed
Christine Kremkau:
Picture "Sunflowers" (2020), framed
Quick info
ars mundi Exclusive Edition | limited, 98 copies | numbered | signed | reproduction, Giclée print on handmade paper | framed | passe-partout | glazed | size 50 x 40 cm (h/w)
Delivery time: approx. 2 weeks
Detailed description
Picture "Sunflowers" (2020), framed
For garden lovers, encountering plants is like a conversation, like an exchange of ideas. Their blossoms are perceived as gifts of nature. That is how the passionate gardener Christine Kremkau draws the motifs for her watercolours using the unique wet-on-wet technique.

Fine Art Giclée on heavy handmade paper. Limited edition of 98 copies, numbered and signed. Motif size 30 x 22 cm (h/w). Sheet size 40 x 32 cm (h/w). Framed in high-quality, silver-coloured solid wood frame with bevel cut passe-partout, glazed. Size 50 x 40 cm (h/w). ars mundi Exclusive Edition.
This object is part of the following sets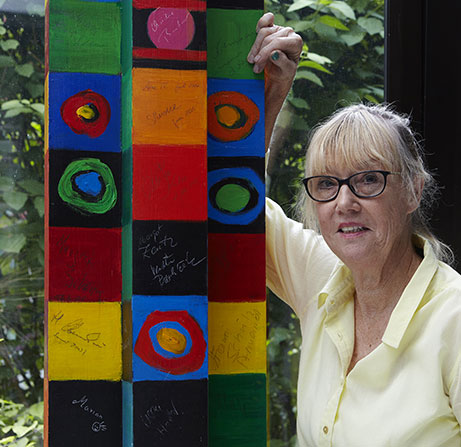 About Christine Kremkau
The passionate gardener, Christine Kremkau (born in 1941 in Rathenow, Germany) knows how her students feel. As a painter, she draws on this connection to the plants, chooses the most luminous of all techniques, wet-on-wet painting, and shows this brief, biological moment, which is filled with delicacy and colourfulness. Her preferred motifs are flowers and landscapes in many variations.
The works of the expressionist Emil Nolde inspired her, and as a student of the English watercolourist Matt Bruce she matured and followed up with several stays abroad. Numerous exhibitions and publications make her an influential contemporary expressionist.
Graphic or sculpture edition that was initiated by ars mundi and is available only at ars mundi or at distribution partners licensed by ars mundi.
Giclée = derived from the French verb gicler "to squirt, spurt".
The giclée method is a digital printing process. It is a high-resolution, large-format printout on an inkjet printer with special different-coloured dye- or pigment-based inks (usually six to twelve). The colours are fade-proof, i.e. resistant to harmful UV light. They have a high richness of nuance, contrast and saturation.
The giclée process is suitable for art canvases, handmade and watercolour paper as well as for silk.