Friedensreich Hundertwasser:
Silk scarf "Dark-Colourful"
Friedensreich Hundertwasser:
Silk scarf "Dark-Colourful"
Quick info
silk | size 50 x 160 cm
Delivery time: Immediately deliverable
Detailed description
Silk scarf "Dark-Colourful"
For Hundertwasser, who called himself "Dunkelbunt" (eng."dark-colourful"), rainy days were inspiring, because, in front of a dark background, colours are glowing most beautifully. Nature's best example of this is the rainbow. On flowing crêpe Georgette, Hundertwasser's composition appears to be flooded with light. Each piece varies slightly in its motif and colour composition, making each silk scarf unique. The ground colour is black. Size 50 x 160 cm.

The displayed works of art are protected by copyright. In particular, it is not permitted to copy, edit, print or publish these illustrations. Violations will be prosecuted according to civil and criminal law.
Customer reviews
Ebenfalls ein Geschenk - für meine Schwester. Sie war begeistert von der Qualität.
Perfekte Verpackung + Ware. Alles bestens. Gerne wieder. MfG
Hat meiner Frau als Weihnachtsgeschenk gefallen.
Farben, Material - es passt einfach alles!
Trotz gewählter Bezahlung 'Bankeinzug' erfolgte die Abbuchung erst nach Erhalt der Ware
Tolle Qualität, ist sehr gut angekommen.
Es kam keine Auftragsbestätigung per E-Mail.Die Ware ist Klasse
Der Schal ist und schaut sehr exquisit aus! Würde in sofort wieder kaufen. Ich kann den Kauf dieses schönen Stückes nur empfehlen!!!
Jederzeit gerne wieder!!!
umgetauscht, weil vor 6 Jahren meiner Frau schon einmal geschenkt
Der Schal ist sehr schön ,und er wurde schnell geliefert.
Gute Qualität und angenehm auffallendes Muster. Erwartung vollständig erfüllt !
Alles bestens! Danke bis bald!
Mit der Objektwahl bin ich zufrieden, schließlich habe ich ja höchstpersönlich und frei gewählt. Ob mit dem Objekt selbst meine Tochter (der es zugedacht ist) auch zufrieden sein wird, hoffe ich; dass sie es sein sollte, weiß ich. Danke für die schnelle und gut verpackte Lieferung.
Der Seidenschal sieht schön aus.
Kauf, Versand, Lieferung, Ware und Bezahlung einwandfrei
Superschnelle Lieferung - hervorragende Ware
sehr gute Ware, meine Frau war begeistert.
Schnelle und gute Lieferung. Musterauswahl nicht so schön.
sehr schön, ausgefallen, gute Qualität, schnell geliefert, spät abgebucht
genial und super schön verpackt, der Schal ist sehr schön und in bester Qualität
Ich bin mit dem Produkt und der Abwicklung des Auftrags voll zufrieden.
Abwicklung verlief trotz Vorweihnachtszeit schnell und unkompliziert. Alles Bestens.
Der Schal ist wunderschön. Ich habe ihn als Präsent verwendet und er hat große Begeisterung ausgelöst. Immer wieder gerne Ihre Kundin
Wir waren mit der Qualität der gelieferten Ware und der Verpackung sehr zufrieden. Lediglich bei der Zustellung gab es eine kleine Verwirrung, da die Ware auf einer falschen Tour zugeordnet worden war.
Das ist ein sehr schönes Geschenk
Leider Rücksendung erforderlich, da doppeltes Geschenk! Ware war wunderbar! Empfehlenswert!!
Show all ratings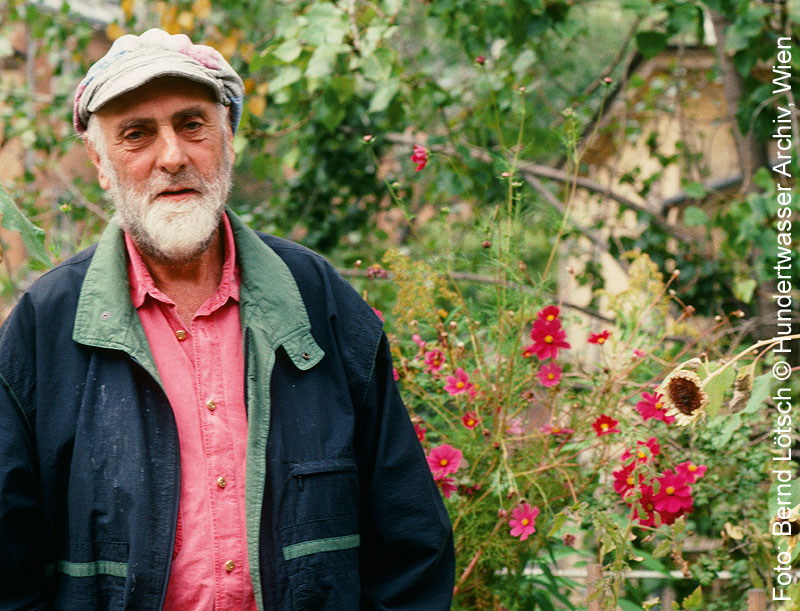 About Friedensreich Hundertwasser
1928-2000
Hundertwasser is one of the most internationally renowned artists of our time. His worldwide reputation was already established in the 1960s. Followed by an eventful and evocative career. His aura and power emerged from his painting and multifaceted work.
Organizing demonstrations, speeches, happenings and campaigns, addressing ecological issues, advocating a life in harmony with nature, manifestos for nature, standing up for a more humane architecture and the improvement of people's lives.
Hundertwasser originated projects such as the tree tenants, the roof afforestation, the regreening of cities, the humus toilet, the restoration of social values and the natural cycles. He was an admonisher against environmental pollution, against the dangers of nuclear energy, against natural degradation and the destruction of natural heritage, and in favour of a waste-free society.
Hundertwasser has been engaged with architecture since the 1950s. On the occasion of the inauguration of the Hundertwasser House of the City of Vienna (1986), he said: "We are again experiencing a turning point where old and rigid values in architecture and urban developement are increasingly being questioned. The straightness and uniformity of Bauhaus architecture is coming to an end because it is callous, sterile, cold, heartless, aggressive and emotionless. The era of absolute rationalism is coming to an end. The new values are enhanced quality of life, not standard of living. Longing for romance, individuality, creativity, especially creativity and living in harmony with nature."
With Friedensreich Hundertwasser, our epoch has found the most imposing challenger of totalitarian thinking, whether it concerns nuclear energy, genetic manipulation, environmental protection or the design of our living space. Hundertwasser lived completely in harmony with his view of things and opposing the contradictions of post-industrial society. Hundertwasser's significance is his art that produces beauty: a message of natural harmony, peace and joy.